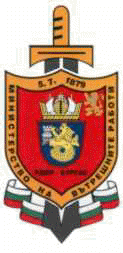 The District Directorate of Interior /DDI/ - Burgas is completing it's duties on the protection of the national security, control and prevention of the organized crime and underground elements, protection of the public order and fire security on the territory of the Burgas administrative region. The basic characteristics of the region :7608 square kilometers territory - the biggest one in Bulgaria, the population /app. 440000 people/ - the fourth biggest in Bulgaria, spread in 13 municipalities, 257 inhabited places, from which 16 towns and 241 villages. Almost the half / app. 47% / of the population is concentrated in the Burgas municipality. The town of Burgas is the fourth biggest in the country, with a population of more than 230000 people. Compact groups of population with turkish ethnical self-consciousness live in Ruen municipality and also in the municipalities of Aitos and Sungurlare. In Karnobat and Sungurlare municipalities live also karakachans. Population of Greek origin lives in several towns along the sea-coast. Groups of gipsies live mainly in Burgas. Aitos and Kameno /approx. 3000 people/.
The situation in the region is under the influence of a certain number of constant factors, more important from which are: the strategically important economic potential / structure defining and life ensuring branches / ; the highly developed international and domestic tourism during the summerseason; the big number of transport and communication complexes / the biggest harbor in Bulgaria, an international airport and important land - and sea ways / ; a boundary zone / sea boundary - 187 km. long and land boundary to Turkey - 107 km. long /with two main Points for Border control / PBC / - in Burgas and Malko Tirnovo ; presence of big compact ethnical group; the located in the district important units of the Bulgarian Army and Navy; the presence of a Turkish Consulate General in Burgas etc.
---
There are 16 Regional Police Departments /RPD/, included in the system of the Burgas District Directorate of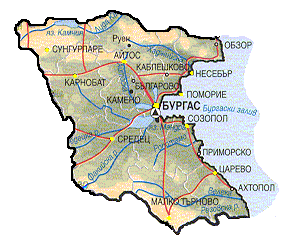 Interior / DDI/. In accordance with the Law for the Ministry of Interior, the main structural units in DDI - Burgas are; Regional unit " Security ", Regional unit (RU) "Police"; RU "Organized Crime Control "; RU " Fire security " and " Regional administration ". The main subsections in RU "Police " are 16 RPD - 5 from them in Burgas ( with police station in Kameno ), in Nesebar ( with police station in Obzor ), in Pomorie, Neftochim, Sozopol, Tzarevo , Primorsko , Malko Turnovo, Sredetz, Aitos, Ruen, Karnobat and Sungurlare.